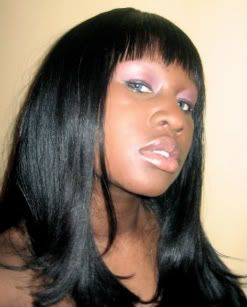 It seems like another lifetime ago when I felt the need to look like I did in that photo. I was weave-a-licious (and yes, those are blue contacts I'm sportin). I don't think I ever really questioned whether or not altering my appearance so significantly was the thing to do; I just did it. I knew deep down I wasn't being true to myself, but I didn't care. I made excuses to myself as to why I couldn't just be happy with my unaltered natural hair: it was too thick, too kinky, too nappy, it shrunk up when washed, it never could be pressed completely straight, it was just too difficult...the list of excuses I had as to why I felt my hair wasn't good enough could fill a book.
I never had an addiction to the creamy crack. My hair is far too fine to put up with chemicals (or heat for that matter) for very long. I did however love extensions and weaves! When I read that piece by Joy Bryant in which she proclaims that her weave made her feel more human, I remember thinking about how at one time I could completely relate to those sentiments.

But things changed.

Ever since I cut my hair, and have made a commitment to wearing it sans weave or extensions, I've been able to truly realize the beauty of my kinks and coils. I wouldn't trade them for anything! Not only that, but caring for my hair is actually a whole lot of fun.

I've begun to realize that wearing hair that once grew out of the head of someone else is a rather questionable practice. I had watched some clips from a documentary awhile back about a British pop stars search to the question: Whose hair is it anyway? The hair extensions the stars wear comes from the heads of women and girls who are probably getting paid nothing or very little for their sacrifice. The cheap stuff most normal people buy however...literally comes from the garbage.

That's just depressing.

I am not willing to wear trash on my head. There is something very lowly and pathetic about wearing garbage.

So my journey continues on, and I'm enjoying every step on the way...

Check out my new blog about natural haircare and all things green!